Along with George Orwell, Aldous Huxley was deeply skeptical of the utopian futures imagined by H.G. Wells and others. Unlike Orwell however, Huxley's greatest fear wasn't a tyrannical government that ruled by the threat of pain, rather it was a dictatorship that enslaved through the promise of pleasure. This class will explore Huxley's ideas as expressed in his dystopian novel Brave New World. How close to realizing his dystopia are we? Is there anything being done to prevent his vision from coming true?
Hours of Instruction: 12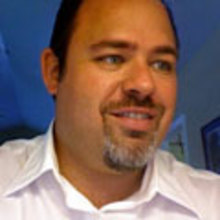 Rob Drapeau is a teacher and writer with over ten years experience teaching Theology to students ranging from fifth graders in their wonder years to retirees in their golden years. He spent eight years as a Theology Instructor at Brophy College Preparatory and has taught Monday School, a theology-for-beginners class at St. Thomas the Apostle, for the past two years. Rob has an BA in Religious Studies from the University of Arizona and an MAEd in Educational Technology from the University of Phoenix. Currently, Rob owns and operates wordSwell, a small, business writing company, and is the Director of Strategic Communications for St. Mary's High School in Phoenix, AZ. Rob is the proud father of Sophia, Joseph, Olivia, Annamaria Francesca, Max, and Gemma, and the happy husband of Amy.
1

Reflection Questions for Online Courses

Three Foes of the Family by Chesterton

2

Session 1 - A Brave New World

3

Session 2 - A Brave New World

4

Session 3 - A Brave New World

BRAVE NEW WORLD A GUIDED READING 3

5

Session 4 - A Brave New World

6

Session 5 - A Brave New World

7

Session 6 - A Brave New World